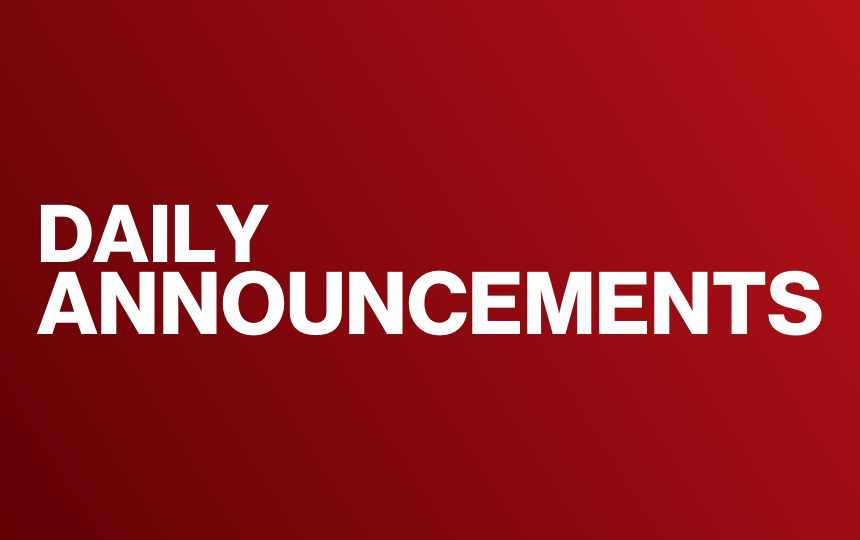 Announcements November 4, 2019
Melanie Horstman
Monday, November 04, 2019
ANNOUNCEMENTS
MONDAY, NOVEMBER 4, 2019
This is a reminder that an Army National Guard representative will be here during high school lunch today. Plan to stop at the booth if interested!
A representative from UW-Eau Claire will be here on Wednesday from 12:30-1:00pm. Any interested students should sign up in the office to meet with him! See Ms. Schulz with any questions!
There are Bangor Pride apparel order forms available in the office. All orders are due to the office by November 10th.
The Bangor Elementary PTO is having an apparel sale. This year we are having an online sale. Please go to the website below and click on the Bangor Spirit Apparel Order. The sale runs until November 15th. We have some great items that will make great Christmas gifts. They will be ready and handed out at the Elementary Christmas Concert which is December 12th. www.shop.pnpproducts.com
SPORTS
The weight room will be closed after school today.
The Cardinal varsity football team improved to 11-0 and advanced to the state quarterfinals with a 28-0 victory over Pepin-Alma Friday night. The offense was led by Carter Horstman's 222 rushing yards on 25 carries and two touchdowns. Mathieu Oesterle had 94 yards on 11 carries and a touchdown. Jayden Nachtigal also scored a rushing touchdown. The defense recorded its 8th shutout of the season while holding Pepin-Alma to 181 total yards. The defense was led by Carter Horstman's 14 tackles and Grant Manke's 10 tackles and 3 tackles for loss. Hayden Lyga and Zach Servais each had interceptions.
The state quarterfinal game is this Friday at Bangor versus Turtle Lake.
Today's Lunch:Grilled Chicken Breast Sandwich on a Pretzel Bun or Taco Triangles with salsa and sour cream, and Redstone Potato Wedges. Tuesday's Breakfast: Whole Grain Cinnamon Roll. Tuesday's Lunch: Turkey Pot Roast in Gravy with a Buttermilk Biscuit or Homemade Sloppy Joe on a Whole Grain Bun and Mashed Potatoes.
BE RESPECTFUL, RESPONSIBLE, PRODUCTIVE & SAFE.