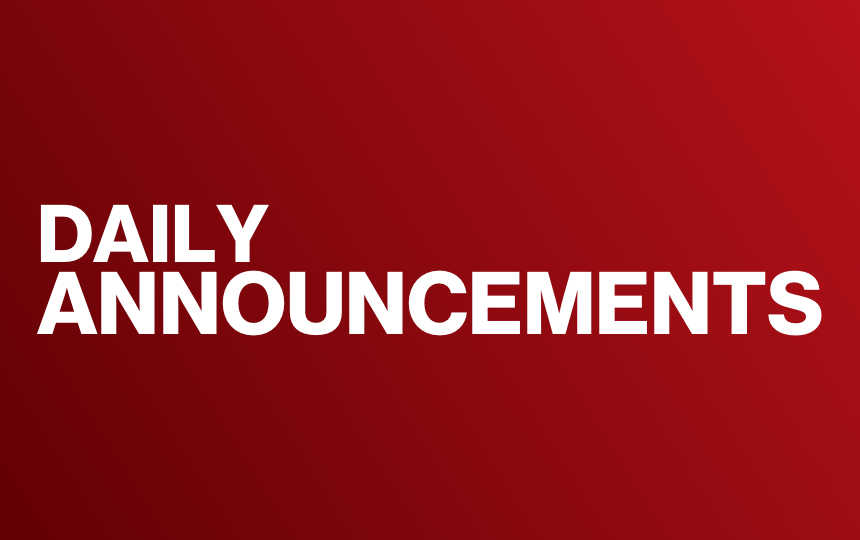 Announcements November 18, 2019
Melanie Horstman
Monday, November 18, 2019
ANNOUNCEMENTS MONDAY, NOVEMBER 18, 2019
The October 2019 Students of the Month are:
6th Grade - Gabriel Cropp
7th Grade - Anna Fronk
8th Grade - Ethan Bushman
9th Grade - Nash Nagy
10th Grade - Treyton Peters
11th Grade - Hank Reader
12th Grade - Isaac Donskey
There will be a short meeting during BIG Time in Mrs. Schmitz's room for the winners. Congratulations to all nominees and winners!
Fall All Conference Pictures will be taken during BIG Time on Tuesday. All Volleyball, Football and Cross Country All Conference award recipients should report to the high school green benches at the beginning of BIG Time.
Attention High School Students:We will be holding a Dodgeball tournament after our Day of Service activities on Tuesday, November 26th. It is your responsibility to register a team if you are interested. Your team must include 8 to 10 people with a minimum of 2 girls on the court at all times. Sign up forms are outside Mrs. Schmitz's door and are due back by Friday, November 22nd. See Mrs. Schmitz if you have any questions.
DEER HUNTERS: This is a reminder that your completed forms are due back to the office today. Please turn them in as soon as possible.
Attention Juniors:Your fundraiser items will be delivered on Thursday, November 21st.
SPORTS
The cardinal football season came to an end Friday night with a 27-7 state semifinal loss to Edgar. Carter Horstman led the offense with 23 carries for 116 yards. Ashton Michek threw a touchdown pass to Nathanael Wiggins. Defensively Carter, Owen Johnson, and Hayden Lyga each recorded 10+ tackles. Jayden Nachtigal added an interception. The cardinals finished the season with a 12-1 record. Football players please meet in the locker room tonight to turn all of your equipment.
Today's Lunch:Bakalar's Hot Dog on a Whole Grain Bun or Meatball Marinara Sub on a Hoagie Roll and Oven Baked French Fries. Tuesday's Breakfast: Mini Pancakes. Tuesday's Lunch: Walking Tacos on Frito Corn Chips or Chicken & Cheese Quesadilla, and Refried Beans.
BE RESPECTFUL, RESPONSIBLE, PRODUCTIVE & SAFE.