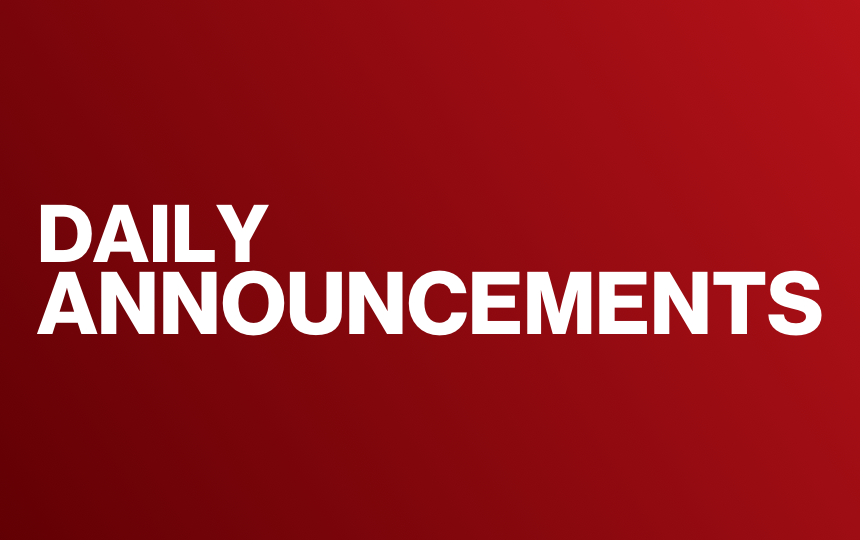 Announcements November 19, 2019
Melanie Horstman
Tuesday, November 19, 2019
ANNOUNCEMENTS TUESDAY, NOVEMBER 19, 2019
Fall All Conference Pictures will be taken during BIG Time today. All Volleyball, Football and Cross Country All Conference award recipients should report to the high school green benches at the beginning of BIG Time.
Seniors, meet at Bangor Park tomorrow morning at 7:30 am to take the Senior Class picture.
FCCLA will be meeting in Ms. Hundt's room during BIG Time on Wednesday.
Juniors and Seniors: Mac, our Career Coach from Western will be here this next Monday, Nov. 25. If you would like to meet with her, please sign up in the office. Those who signed up last week are still on the list!
Attention High School Students:We will be holding a Dodgeball tournament after our Day of Service activities on Tuesday, November 26th. It is your responsibility to register a team if you are interested. Your team must include 8 to 10 people with a minimum of 2 girls on the court at all times. Sign up forms are outside Mrs. Schmitz's door and are due back by Friday, November 22nd. See Mrs. Schmitz if you have any questions.
SPORTS
Please release the middle school wrestlers after 8thhour today for their meet at Westby.
Today's Lunch:Walking Tacos on Frito Corn Chips or Chicken & Cheese Quesadilla, and Refried Beans. Wednesday's Breakfast: Mini Cinni's. Wednesday's Lunch: Breaded Chicken Patty or BBQ Pulled Pork Sandwich on a Whole Grain Kaiser Bun, and Garlic Roasted Green Beans.
HAPPY BIRTHDAY TO SKYE SEBRANEK!
BE RESPECTFUL, RESPONSIBLE, PRODUCTIVE & SAFE.