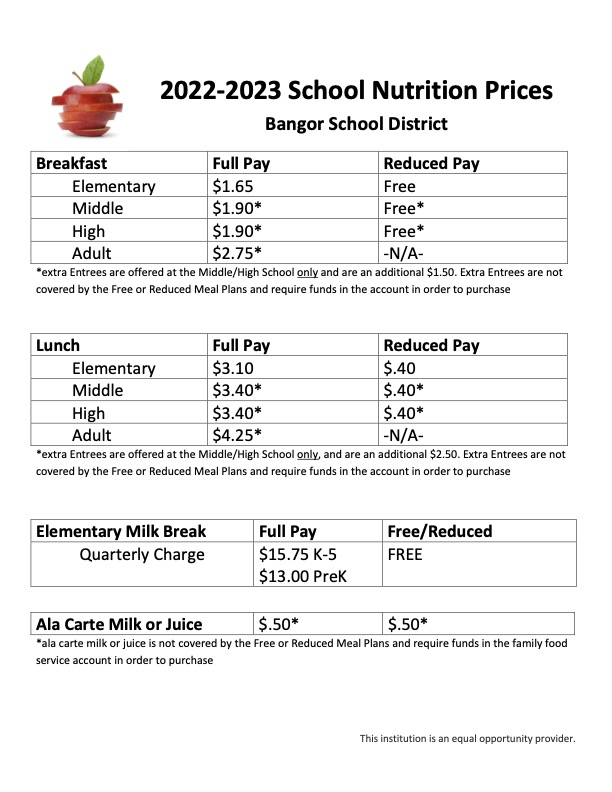 NOTICE:
As of the last day of school, the Bangor School District will no longer be able to serve meals free to all students. The funding to be able to offer free meals during the pandemic will end at the end of the day on June 30, 2022.
A new free/reduced meal application will be needed in order to receive free or reduced-priced meals during the 2022-2023 school year. New application forms will be available after July 1, 2022. Completing the free/reduced application is necessary for all families as this information helps determine additional funding for enhanced educational opportunities for your child's school. We will share information including meal pricing for the 22-23 school year, free/reduced applications, and any additional information needed in the summer newsletter. Please also watch for updates through email.
We look forward to continuing to serve our students next school year. Have a great summer and see you in the fall!

Farm to School & Harvest of the Month
The Bangor School District participates in the Coulee Region Farm to School program, a partnership between the La Crosse County Health Department, Gundersen Health System and Mayo Clinic Health System-Franciscan Healthcare. This program allows our school nutrition department to bring fresh, locally grown foods to serve to our students. The majority of these items are fruits and vegetables, but we also receive meat and dairy products. Each month there is a Farm to School newsletter featuring the Harvest of the Month with fun facts, nutrition information, uses and recipes.
Farm to School encourages students to try new foods that they may not otherwise be exposed to and teaches them about nutrition. Teaching children from a young age that fruits and vegetables are good for them and can be delicious makes it more likely that they will choose healthy foods throughout their lifetime. To learn more about the Farm to School program, click Here
Nutrition Services is a dedicated staff of Certified Nutrition and Food Safety Professionals. We strive to provide healthy, nutritious, and appealing meals in a variety that all students can enjoy. Buying local, providing Farm to School options, and working on sustainability in our food sources are all a focus of this department. We strongly believe that the overall wellness of our students is imperative to their ability to learn and engage in the classroom setting.